Scarf
Scarf - Fashionable & Trendy - Women & Men
This winter, you can avoid the little inconveniences of the cold by investing in a scarf! At Headict, we offer a very wide selection of high-quality scarves, in order to meet every taste. From men's classic scarves to women's neckwarmers, via Buff tube scarves, protect your throat from the cold. Headict has selected the best brands and the best designs. Besides, we offer the lowest prices and the quickest delivery.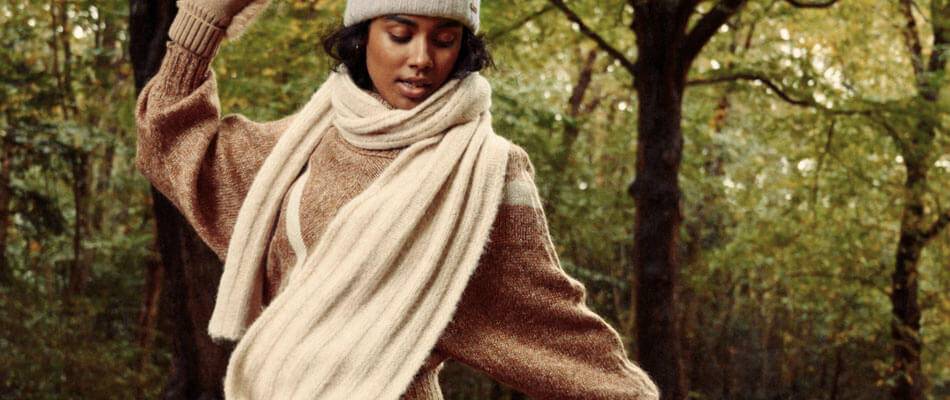 The scarf: the winter must-have
The scarf is an essential fashion accessory. It is trendy and highly practical at the same time and goes with every style! From autumn to spring for those who feel the cold, your scarf will accompany you for a good part of the year and protect you from the cold and wind whilst adding a personalized touch to your outfit.
A scarf in wool, fur or technical fabric.
We all like having our necks protected from draughts, but in different ways. Whether you prefer a sober and classic striped model or a sublime snood in silky fur, find the latest trends amongst our collection. Indulge yourself with a versatile scarf and multiply its uses with a Buff neckwarmer whose sporty material is breathable, moisture-repellent and dries in a flash.
A wide choice of scarves on Headict
There is a large choice of scarves on our website. Go for a Barts snood from the Amsterdam-based brand, a Seeberger wool scarf designed in the foothills of the Alps, or a simple, soft version from the very popular American label Coal. Also discover Koudou, a friendly French company that makes its urban neckwarmers in a workshop in Isère. With their impeccable style and cutting-edge materials, Koudou are a modern alternative to traditional models. If you want a bandana, explore our collection, available in all colours. From light-weight to very warm, woven or knitted, you will undoubtedly find a scarf to suit your outfit and your taste, at our Headict.com online store!
A découvrir également : black scarves - White scarves - Grey scarves
see also :
Whilst we used to wear scarves in a traditional manner and always in the same way, this has changed and we can now wear designs that no longer have much in common with the traditional, slender scarf that we used to wrap around our necks. Today, the scarf has been modernized, allowing us to benefit from greater functionality as well as superior performance in terms of protecting from the cold, of course. Thus, the new generation of scarves no longer systematically rolls up, it can be put on and around your neck like a real turtleneck.
Scarves that protect and look stylish
This famous new generation of scarves is extremely effective in protecting against the cold as this type of scarf is worn very close to the body, highly effective against those uncomfortable draughts felt during the winter period. In particular there is the famous snood, generally made of very thick, knitted wool. Then there is the neckwarmer, usually made of woven fabric, very warm and elastic, which in utmost simplicity perfectly fits the shape of the throat. These woven scarves are interesting, in particular aesthetically speaking, as they are often designed with patterns and colours that stand out from the ordinary. The scarf is no longer simply an essential accessory, it is an element that will give your style of clothing a little extra, an undeniable chic touch. Discover the numerous models proposed by Headict, which offers the best scarf selection, including the cheche scarf, but also the snood or neckwarmer, so you can find the perfect design to accompany you throughout winter.
Create your own winter outfit on Headict
Headict is specialized in selecting hats, caps and beanies for everyone. Besides, you will find on our web store other accessories that are perfect for the winter months. The scarf is one of them! Shop the perfect one that fits your style: we have knit scarves, snoods of lighter scarves to go with any outfit. Moreover, we also select gloves and headbands to keep you warm. Create your own winter looks right now, at Headict!