Earmuffs
Earmuffs Women, Girls, Men and Children
Brrr when the temperatures drop, it's usually the ears that feel it first! Very fashionable in the 80's, earmuffs are making a retro comeback and we love it! As warm as a wool, fur, fleece or fabric beanie, the size is adjustable like a headset. At Headict, find women's earmuffs at the best price. They also are eligible to the 48-hours delivery that we offer.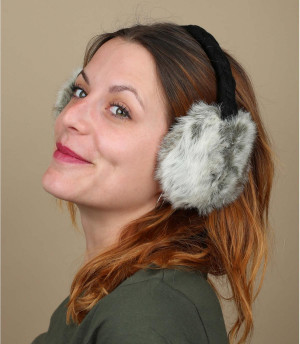 Earmuffs, more effective than beanies...
It is true that when winter is here and you want to protect your head, you will tend to wear a beanie. However, this will not be enough to keep your ears warm, and to do so, you should opt for men's or women's earmuffs, which are perfect for protecting this sensitive part of your anatomy. Indeed, the cold when it is very harsh, and especially when the weather is windy, tends to sensitize the ear, which is why you feel much better when you wear men's or women's earmuffs to protect yourself from the elements. Women's earmuffs will help you to withstand the winter, while also adding style: all accessories with a vintage connotation are now ultra trendy, one more reason to adopt it!
Choose your earmuffs at Headict
There is a very large selection of women's earmuffs in our range, and if fur is still the preferred material, it is not the only style waiting for you on our shelves. You can also find knitted earmuffs for example, another ultra-fashionable material, to give you a trendy look even during the cold season, which is not always easy. And as for colours, you will once again have the choice: black for the most sober, white to recall the snow, why not even a leopard print to be at the forefront of fashion, everything is possible. You will appreciate both our large choice of earmuffs, but also the different brands that appear on our site, with Barts for example, one of the most appreciated brands in the world of hat-making today. Order women's earmuffs right now, get the best prices and enjoy our express delivery!