Newsboy cap
Newsboy cap for men, women and children
With its legendary retro shape and incomparable charm, the newsboy cap is worn by both men and women. This vintage cap derived from the traditional beret is perfect if you are looking for an original style.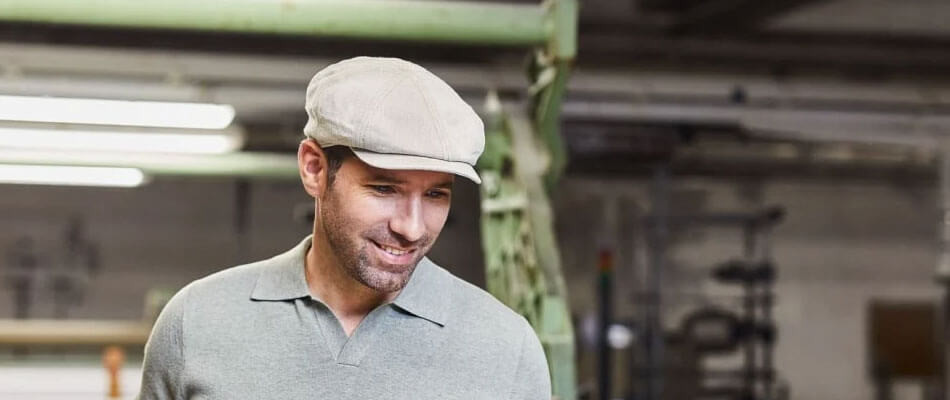 The newsboy cap offers a retro style for both men and women
Recognizable by its rounded, slightly domed shape, its eight panels and its short visor, the newsboy cap has a timeless look. Different from the flat cap, it brings style to any urban and casual outfit.
A man's newsboy cap worn with jeans and a shirt adds a chic touch to your outfit, while a dressy jacket will bring you closer to dandy chic. Let's not forget that whilst the newsboy cap reminds us of American newspaper delivery men, it was also adopted by golfers and the first car drivers, in order to complete an elegant outfit. It is therefore suitable for a refined look as well as for simple and casual clothing, depending on your style and your personality. 
On the feminine side, opt for a boyish look and add personality to your outfit with a women's newsboy cap. The newsboy cap is an iconic hat and a must-have, for both men and women. 
On this page you will find the famous newsboy cap that the Peaky Blinders wear in the TV show.
The widest choice of newsboy caps
In addition to being an accessory that suits all fashion trends, the newsboy cap, also known as the gatsby cap, is good company when the weather turns cool. Many models like the Stetson caps are made of wool. These beautiful tweed newsboy caps embody the Irish tradition. Their material is breathable and keeps you warm. The newsboy capo is also resistant to light humidity. Headict also offers Irish Stetson caps combining wool and cashmere for incomparable comfort.
Lovers of authentic materials will appreciate the newsboy leather berets, a supple material that beautifies as it ages. Discover the designs by Fléchet and Stetson in lamb, goat or cowhide leather.
In summer, you can opt for a newsboy cap in linen, denim or cotton. These lighter models will protect you from the sun whilst letting your scalp breathe for maximum comfort.
On Headict, you will find a wide range of newsboy caps for men and women. In order to meet our client's needs, we selected hats in different fabrics and styles. Moreover, Headict brings you the most famous brands, such as Stetson, Brixton, Bailey or Barts. Each one of these brands is specialized in newsboy cap manufacturing and offer you high-quality products. Shop now a newsboy cap on Headict !