Neckerchief
Neckwarmer for men and women
Neckwarmers meet the need for ever more practicality. Indeed, a neck warmer fits over your head and gives you the assurance of staying in place. You don't have to keep tying your scarf up again and again for fear of losing it; the neckwarmer takes up almost no space and is useful against the cold and wind. It can be matched to your beanie or coat, and it's very soft to the touch! Perfect for sports activities but also for the city.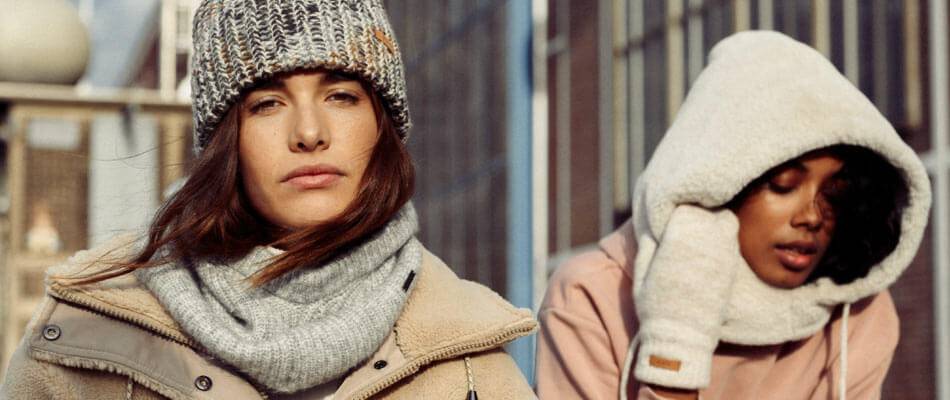 A neckwarmer for all purposes
Neckwarmers are a favourite accessory for sportsmen and women. With an anti-UV treatment, improved breathability, and protection against the cold, a neckwarmer provides body temperature control to make your sporting experience as enjoyable as possible. Brands such as Buff or Beardo allow you to fight against the cold and stay trendy with their colourful designs. Neckwarmers are also more discreet for use in the city and even feminine with their perfect combination of materials and patterns!
A brand that sets the standard: Buff
Created in 1992 in Spain, every year the Buff brand creates collections of microfibre neckwarmers that combine a high level of technicality to fight against the elements, with modern designs adapted to daily life. The models in merino wool will suit you if you are looking for natural fibres while the models in fleece are perfect for regulating your body temperature and not letting you get cold. For extreme conditions, your choice should be a Buff Cyclone and if you want to be clearly visible in all conditions, the Buff with reflective stripes is a must-have!
Different uses of the neckwarmer
The neckwarmer is also very interesting because of its many uses. It can of course cover your neck like a scarf, and more besides. It can also be used to cover your nose and mouth, like a balaclava. Buff's models are ideal for this, thanks to their considerable thickness. This is also possible with a men's or women's neckwarmer from the Beardo brand, which offers very original models, with ultra-fantasy face designs in particular. Enough to have your own distinctive style on the slopes this winter!
Which material for your neckwarmer?
For a neckwarmer for women or men, different materials exist: the knitted stitch of course, resembling a classic scarf, as well as more technical and lightweight materials, which keep the neck warm whilst being much thinner. It all depends on how you plan to use it. Your neckwarmer can be worn during winter sports for example; in this case you will be more comfortable with a thinner material, worn more closely to the body. On the other hand, for the city, everything is possible because there are fewer constraints. What's more, knitwear is very trendy at the moment, why not with a few fringes to embellish your neckwarmer?Anyway, you can count on Headict to offer you a wide range of women's and men's neckwarmers, very varied in terms of brands, colours and materials, so as to please each of you, regardless of your style of clothing, and no matter how you wear this accessory.