Team beanie
Sports team beanie : NBA, NFL, NHL, MLB beanies
The sports team beanie is a winter must-have for all NBA, NFL, NHL and MLB lovers. For all Yankees, Nets or Bulls fans, replace your snapback with a beanie during the cooler months. More than 200 sports team beanies on Headict! Find the one that fits your personality and your style.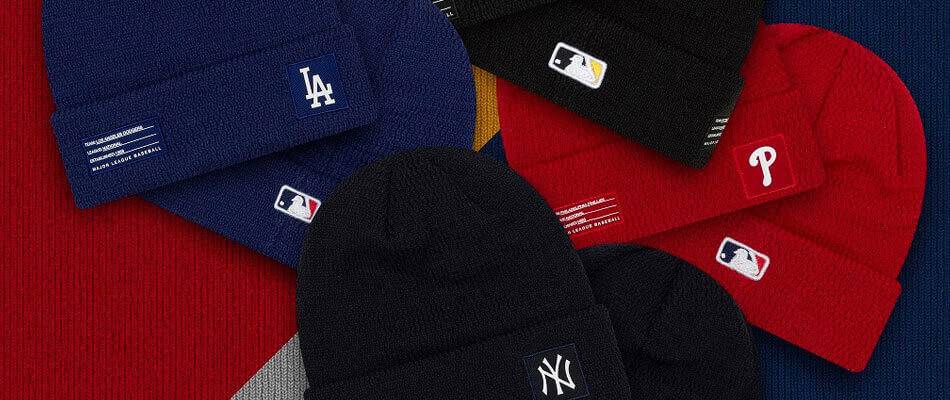 The NBA team beanie: More than just an accessory...
Do you support an American basketball or baseball team ? Then, wearing a sports team cap is really meaningful. In fact, it is your way to send your support to your favourite players and pay tribute to them. That's why the NBA beanies have an impact not only on the look, but also on the mindset of the person wearing it.
Moreover, the beanie is a winter must-have. It brings an original yet trendy touch to any outfit. These US sports team beanies are particularly fashionable. You will enjoy wearing it! Moreover, we have selected multiple designs, so you can choose between different prints. We have beanies for every sports fan. You can shop a winter hat, whether you support a basket team from LA, NY or Miami. You simply won't be able to do without your team beanie once you receive it.
Choose your NFL teal beanie on Headict
Shop now the perfect NFL beanie on Headict. Our online store has one of the largest collections of American sports team beanies. This allows us to offer you a wide variety of designs, with many teams and patterns. Some will choose a team patch for a rather simple style, while others will get a fully fashioned knit hat, for a more casual look.
In any case, when it comes to NFL team beanie, you'll find the product that meet your need, both in terms of teams and colours. Moreover, Headict offer you the best delivery and after-sales services. We ship our product in 48 hours so you can enjoy your sports team beanie as soon as possible.
A sports team beanie to support your favourite players
Who said that sports fans only wear snapbacks and baseball caps? Brands such as Mitchell and Ness and New Era have understood that snapbacks are not the perfect winter headpiece. When it's freezing, you need a beanie that covers your ears and keep you warm. These famous brands offer you their collections of sports team beanies. You can choose between the colours and logos of the biggest hockey, basketball and baseball teams in the American leagues. No need to leave your passion for sports in the closet and freeze your ears! In an almost Nordic jacquard style, with vintage colours or offbeat patterns such as leopard, the sports team beanie of your dreams is here. So take a look now at the selection below!
The sports team beanie for Winter Sport Fanatics
The sports team beanie comes in all shapes. On Headict, find headpieces with pompoms, lapels or colour stripes. Headict also selected long shapes for an oversize style or short shape for a more casual outfit. We are sure you will find the perfect winter sports team beanie on Headict. Affirm who you are with a hat that won't go unnoticed. Shop an accessory that highlights your passion for sports or the American spirit that emanates from it. The little ones don't have to wait patiently for adolescence, there are hats for kids available on Headict! In fact, we have a wide selection for all the family. Men, women, girls and boys can choose from short, long or knitted beanies and more.