Women hat
Women's hats, women's hat store
At Headict, find a wide selection of women hats. We have selected just for you hundreds of designs and brands, in order to meet your needs. Discover your future women hat on this page. From the capeline to the trilby, there is something for everyone. Moreover, shopping at Headict alows you to get a 48-hours delivery. Get your women hat now!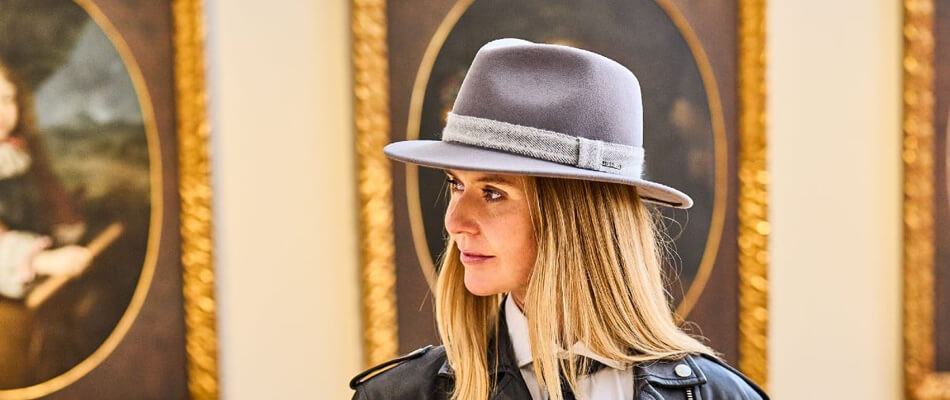 The women's hat, a must-have
Are you looking for a trendy accessory that will give your look a modern and sophisticated style? The women's beret or cap looks a little too boyish for you? Then let yourself be tempted by one of our women's hats. Hats with wide or shorter brims, bowler hats or cloche hats, they are increasingly attractive. Moreover, we have selected for our customer women hats made of comfortable materials such as felt, wool, cotton or linen. Hats in various fashionable shapes are available at Headict. Both chic and casual, women's hats can be worn with any outfit. Regardless of your style, you will find the perfect accessory here, at Headict.
The power of women's hats
From Kate Moss to Beyoncé, the fashion leaders have taken over. Wearing a hat gives you a unique power: the power to attract attention whilst remaining protected. It also has the magical power to solve every hair problem. You don't have time to brush your hair this morning? Are you having a bad-hair day? Then put your women hat on and look like the coolest girl in the neighborhood. In winter we prefer a felt hat for its warmth and protection from the rain. In summer, we recommend a panama. 
A découvrir également : Women hats - Women hats - Women hats - Black hats - White hats - Blue hats - Burgundy hats - Women hats - Red hats - Winter hat - Summer hat - Pink hat
Women hat: find the best brands here, at Headict
You are probably looking for a high-quality women hat, made from a high-quality material. At Headict, we have selected the best women hat brands only, in order to meet your needs. As a matter of fact, you will find on this page brands reputed for their know-how, such as Barts, Stetson, Brixton, Fléchet, Seeberger or the French brand Céline Robert. 
These particular brands use the best materials and fabrics, in order to create women hats of high-quality. Moreover, the best brands draw their inspiration from the last trends, but also from classic designs, which means that their women hats are both modern and timeless.
see also :
A women hat that perfectly matches your style
The choice of a women hat is mainly made by examining her own clothing style. The capeline is ideal with feminine outfits and brings a bohemian touch. If you like rock stars-inspired style, then choose a Stetson or borsalino women hat. Finally, don't hesitate to mix styles to be original and to stand out from the crowd.
A panama hat with a streetwear outfit will be both trendy and ultra-original! In any case, a women hat always brings a little unconventional touch to her overall look. Any kind of women hat can be worn all year round:
In summer, the best headpiece is the straw hat. Choose the design you want! A straw Panama or a straw trilby os very trendy right now. You can also choose a cotton canvas women hat. It is light and comfortable and offers you a good protection against the sun.
For the winter months, you have to protect yourself from the cold, the rain and the snow. Opt for a winter women hat made of wool or felt, in order to be well-protected from the bad weather. Concerning quality, you can count on Headict and its selection of top-of-the-range brands!
Shop your women hats on Headict!
We have no doubt that you will find the perfect women hat here, on Headict. Shop now and get the best price ! We have selected affordable accessories, so every woman can get the perfect hat. Moreover, we offer you a 48-hours delivery, so you can get your order as soon as possible. Get your women hat now, on Headict!