Men's hat
Men's hats - Men's hats on sale at Headict
Wearing a men's hat is a sign of elegance. It shows the world that you have a great eye for fashion. Find your men's hat among a trendy and stylish collection of headwear. All shapes, all materials, all styles of hat can be found at Headict.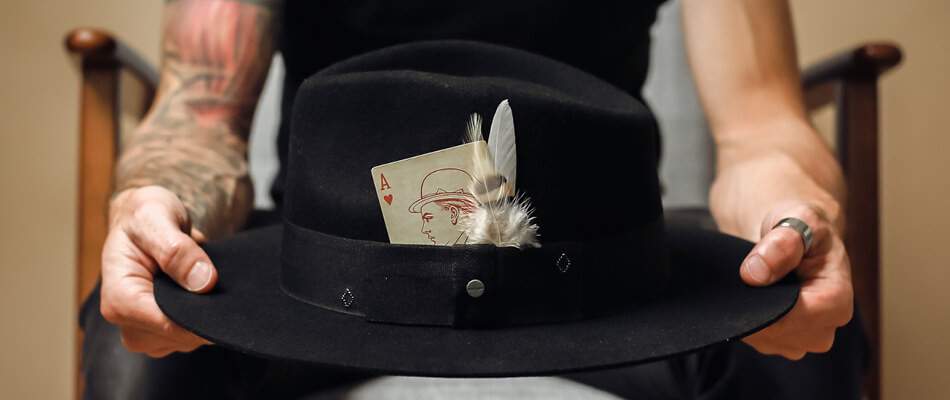 Wear a men's hat whatever your style is
The hat is appealing to more and more men. A lot of celebrities wear hats on a daily basis. You probably know Pharrell Williams, who since his Happy Hat no longer goes out without it! From the mythical Stetson to the Goorin Bros or Fedora trilby in Brixton felt, the designers know how to capture the spirit of the times. The best men's hat brands create modern shapes without losing any authenticity. Do you wish to bring a rock, dandy or artistic touch to your style and outfits? Then check our selection of men's hats. We have selected the best designs and the best brands, in order to meet your need. 
A découvrir également : Men hats - Panama hats - Panama hats - Black hats - White hats - Blue hats - Burgundy hats - Winter hat - Summer hat
see also :
The re-conquest of men's hats
Today, the men's hat is modern and stylish. Nowadays, men's hats are no longer a sign of a social rank or a profession. It is now worn to give the final touch to an outfit, very sophisticated or more casual, for a special event or for everyday use. The hat is also useful. In fact, it can protect you from the sun or the cold. At Headict, you will find the perfect men's hat that fits your style. As you can see, we offer you a large range of products. 
Which men's hat will you choose? 
Here at Headict, pick the men's hat design you like the most. Will it be the Fedora hat, the trilby hat or the pork pie hat? We also have bucket hats, straw hats, panama hats and felt hats. Choose between bowler hats, top hats, cloche hats, boater hats or traveler hats the one you like the most. You will also find at Headict cowboy hats or summer hats in multiple colours and patterns. 
The best men's hat brands are available at Headict
You probably know the most famous men's hat brands, such as Stetson or Herman. Headict offers you the best brands specialized in hat manufacturing. Bailey, Brixton, Göttman, Fléchet, Borsalino or Seeberger are available at our webshop. Get your men's hat now!