New Era cap
Discover here the New Era shop at headict.com : the largest New Era shop online. Discover the 59fifty and 39thirty caps from the n°1 caps brand. Choose your league and your favorite colour among our range of products.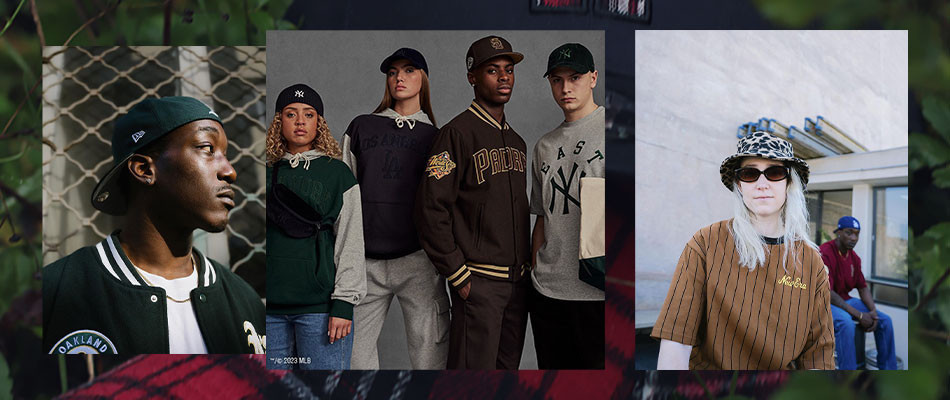 The American New Era cap: a must-have
New Era is the official cap supplier for professional baseball teams since the 30s. Nowadays, the New Era cap is a trendy and fashion accessory. It is also a must-have for baseball, football or NBA fans and urban music lovers. Thanks to its high-quality caps New Era brand has gone down the history and became universal. The New Era snapback, the legendary 59Fifty, or the 39Thirty have become must-haves. Available in a multitude of colours, you will find the New Era cap in pink, black, red, blue… shop the one that fits your style!
On this page : New Era shop - New Era shop - US cap
MLB, NFL, NHL or NBA: support your favourite sports team with a New Era cap
A simple visit to the United States will confirm it: MLB and NFL fans are everywhere! NY, LA, Sox, Raiders caps are available in different designs. Shop your favourite snapback cap, the fitted cap or the beanie and support your team! The New Era cap is the only one that can display the legendary logos of American baseball and football teams.
A découvrir également : New Era kids - New Era women cap - Black caps - White caps - New Era red - New Era grey - New Era white - New Era black - Camo cap
Baseball fans can opt for a New York Yankees cap for men or women. Are you a NFL fanatic? New Era offers you the best sports team hats! The Spurs, the Lakers or the Patriots' logos are available in the New Era cap collection for men and women. You can also choose between different shapes: fitted cap, trucker cap, snapback, 9 Forty or 9 Fifty, find the perfect hats on Headict.
New Era is the only brand to support every team of the Major Baseball League, the National Basketball Association, the National Football League and the National Hockey League. New Era hats are also available in different colours: black, white, blue, green, red or blue, which one will you choose?
Discover also : New Era NBA - Sox cap - Mickey cap
Take good care of your New Era cap
Headict teaches you how to take care of a New Era cap. 
If your New Era cap gets wet, it may distort and shrink a little as it dries. To keep it at the right size, simply dry it on your head.
Never put it in the washing machine! The cap is made of wool and you would permanently deform it. To clean the inner headband, take a slightly damp cloth soaked in soapy water and rub gently. Once you have gone around the cap, rinse the cloth with clear water and go over it once again on the inner band to remove any trace of soap. Let it air-dry and your cap is ready again!
Never tumble dry a New Era cap! Let it dry in the open air.
To clean dust off, wrap tape around your fingers so that the sticky side is exposed and tap the entire surface of the cap to remove all dust and other impurities... The tape will hold the dirt and your cap will be clean again!
see also :
How to choose your size?
Are you lost between the different shapes and sizes? Don't panic, we explain everything about the New Era cap size in this complete guide.
Your cap is a little too big? Take a water spray and spray the inner headband evenly and let it dry in the sun on a large glass jar so that the cap hangs down. You can also dry it with a hair dryer. Never tumble dry a New Era cap!
Is your cap a little too tight? What happens most often is that the inner band fulfils its purpose properly and absorbs perspiration. As it dries, the headband narrows slightly, which can be a source of discomfort in some cases. So place the cap on your knee and pull the back of the cap straight towards you. You will hear a few little creaks. Stop pulling after a few of these creaks. Don't pull too much, or you may actually deform your cap. After this operation, your cap will be slightly looser.
Headict: New Era caps at the best price, delivered in 48 hours
In order to give you satisfaction, Headict offers you New Era hats and caps at the best price. Moreover, we guarantee a 48-hours delivery, so you can try your headpiece as soon as possible. A wide choice of affordable hats delivered in 48 hours: what more can you ask for?